Event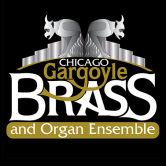 French Connections: Music of Guilmant, Ravel, and Widor
Location:

2335 N Orchard St, Chicago, IL 60614

Venue:

St. Paul United Church of Christ

Time:

02:00 pm
Featuring the Chicago Gargoyle Brass and Organ Ensemble
Phillip Kloeckner, Organ
Dennis Moore of WFMT will serve as Program Presenter.
The CHICAGO GARGOYLE BRASS AND ORGAN ENSEMBLE, which has been on a tear commissioning
new compositions and arrangements for their unusual instrumentation, will give the Chicago premiere of an organ and brass arrangement of late-Romantic French composer Félix-Alexandre Guilmant's Symphony No. 1, Op. 42, for organ and orchestra. Arranger is New England-based composer Craig Garner.
The program,"French Connections: Music of Guilmant, Ravel, and Widor," includes Garner's organ and brass
arrangement of Maurice Ravel's impressionistic "Pavane for a Dead Princess"; Charles-Marie Widor's "Salvum fac populum tuum" (Save our people), Op. 84, for brass, drum, and organ; and French Baroque composer-organist Louis Marchand's "Grand Dialogue in C" for brass and organ.
Concertgoers will also hear Carlyle Sharpe's "Prelude, Elegy, and Scherzo," a Chicago Gargoyle commission that received its world-premiere recording on the Gargoyle's critically acclaimed debut CD, "Flourishes, Tales and Symphonies," released in December on the MSR Classics label.
The program's final piece will be Michael Burkhardt's organ and brass arrangement of the hymn "You Call Us, Lord, to Be," based on a Welsh folk tune.
Ensemble artists will include trumpet players Lev Garbar and Andrew Hunter, horn player Renée
Vogen, trombonist Ian Fitzwater, tuba player Phil Bessette, and percussionists Joe Beribak and Michael Schraft. Organist will be Phillip Kloeckner, a lecturer in music at the University of Chicago and associate university organist at Rockefeller Chapel.